Whenever you chose a platform for running your e-commerce store, you look at the pricing that you have to pay. Moreover, while checking out the price of a particular platform, there are certain dangers that you have to lookout. Some platforms offer monthly, and some offer yearly subscriptions. Apart from these subscription charges, there are some hidden charges like transaction fees or percentage cuts from the platform.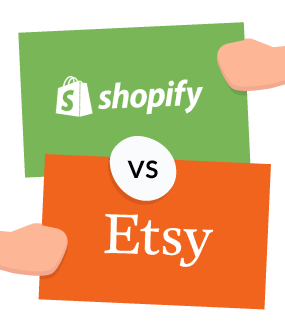 In this article, we will be making a comparison of Shopify fee vs Etsy fee.
Etsy Pricing
The standard Etsy plan does not charge any monthly fee but takes a commission of $0.20 on every item. This fulfills the cost of putting your product on their platform for as long as it is not sold or you take it down.
In terms of the transaction fee, Etsy charges 5% on every transaction along with an extra 3% plus $0.25 for payments made on every product sold. The payment processing fee on Etsy is higher as compared to other e-commerce platforms.
If you are running a small-scale business on Etsy, the transaction fees would not have a significant impact on the profits you earned.
The payment processing fee of Etsy is comparatively higher than other e-commerce platforms. If you are not selling on higher scales, then the transaction fee would not have much of an impact on your profits.
To round this all up, you only have to pay if you made a sale. If you haven't made any sales, you would not be charged by the platform. So if you think that you are unsure whether you own a winning product or not, you do not take on any financial risk.
To get added functionality, you can get Etsy Plus for ten bucks per month.
Following are Etsy's standard expenses in a nutshell:
• Zero Monthly cost
• $0.20 listing fee for each product
• 5% fee on each transaction
• A 3% + $0.35 payment processing fee
• Avail Etsy Plus for $10 per month
Shopify Expenses
Shopify has greater upfront costs but has much more to offer in terms of functionality and scalability. The three major pricing plans that you can choose along with a free trial are as follow:
• Basic Shopify: This package of Shopify costs $29 a month: You have 24/7 access to support staff, multichannel selling, have your personal website or blog, and can upload unlimited items on your store
• Shopify: $79 a month: In this package, you get five staff accounts, professional reports, and lesser rates on credit cards as compared to the basic plan.
• Advanced Shopify: This package costs $299 a month and provides a wide range of advanced features.
The monthly price for Shopify basic plan is relatively higher as compared to Etsy, but the point to remember is that Shopify offers all the necessary items that you need to run your store. Shopify's premium plans give you access to tools that can be used to scale your business to a larger extent.
Payment Gateways
Shopify has a number of payment gateways that vary from region to region available for users to receive their payments. Moreover, they have their own payment gateway known as Shopify Payments.
Such transaction fees are significantly cheaper than Etsy's. Other payment options that Shopify offer include Stripe, PayPal, Google Pay, Apple Pay, and many more.
Overall Pricing
Shopify by far has the best options concerning payment and business fees, but to access these features, you have a monthly fee of $29.
Overall, the Shopify fee vs. Etsy fee is a draw. Shopify provides an excellent return on investment and registering for any of its plans more or less covers all the things that you need to run an online store. Whereas if you are a small seller without having a substantial budget to sell products, then you should go for Etsy. You can choose either of these two platforms depending on your needs.
Shopify vs. Etsy: User Reviews
Sellers at Etsy enjoy the perk of starting their business with ease. They have the opportunity to showcase their products in front of a large audience.
On the other hand, some users criticize Etsy for their reluctance in solving seller-buyer disputes. As a result, the platform loses the support and loyalty of its sellers. The platform asks the sellers and buyers to solve the disputes themselves.
Some sellers argue that selling on Etsy has become difficult because of the market saturation. You now have to face higher competition.
Moving towards Shopify, many people praise them for their functionality, the fact that you can scale your business easily, and ease of doing business. But they also have to face criticism because you have to pay extra bucks to add extra functionalities. Moreover, users outside of the USA, UK, Canada, and New Zealand have to pay transaction fees because they do not have access to Shopify payment.
Therefore, Shopify vs. Etsy comes down to your company requirements and the fact that Etsy is a marketplace while Shopify allows you to build your own online store.